Thaddeus Stevens College Uses PressWise to Train the Next Generation
There is a technical school in Lancaster, Pennsylvania, that is very much aware of the shifting trends in the print industry and preparing Millennials and Generation Z students to enter the print industry workforce. Thaddeus Stevens College (TSC) is a residential, two-year, accredited technical institution that educates students for skilled employment. At TSC, individuals in the Graphic Communications and Printing Technology program learn the skills needed for positions in layout and design, copy preparation, desktop publishing, film assembly and plate processing, direct-to-plate applications, press operations, and bindery operations.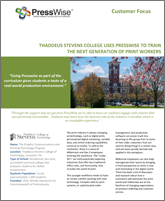 In a new case study published by PressWise, the administrative team of the print technology program discusses how developing an in-depth knowledge of the print management software, PressWise, has become an integral part of their program. The PressWise MIS software is used to create more of a real-world learning environment, where it is used to run an in-house print facility that is managed and run by second-year students. In the case study TSC shares examples of how this hands-on approach to technology has increased the engagement and interest of their students as part of a production-based education. Because of PressWise, TSC can bring a new set of skills into the classroom to best prepare and motivate students for the ever-evolving print industry.
"Through the support that we get from PressWise we're able to have our students engage with content that was previously inaccessible," said Michael Brady, Course Instructor. "Students are estimating, batching, moving jobs through production and invoicing. On a larger scale, they're learning how the back end of PressWise works, such as setting up presses, inputting papers and managing storefronts. Students now learn how the business side of the industry is handled, which is an invaluable experience."
To read the full case study and see what students say about the experience, visit PressWise.com Case Studies Page.